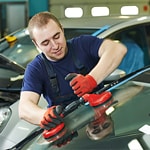 Your vehicle's windshield is an important part of your car that needs to be in good condition at all times. Besides offering you and your passenger protection against external elements, the windshield also gives you a clear view of the road.
Nevertheless, it is common for vehicles in Mifflintown, PA to have windshield chips. Driving a car with windscreen chips can block your view and make driving dangerous. If not repaired, the chips can turn into extensive cracks when the temperature increases or when you bump into something on the road. In addition, driving a vehicle with a compromised windshield is a motoring offense you will want to avoid.
At Brenner Collision Center, we are here to make windshield chip repairs on your vehicle. Our professional team will evaluate your windshield and make necessary repairs to restore it. We pride ourselves on using genuine materials and delivering high-quality services within a short time.