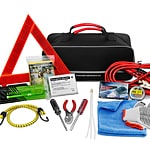 At Brenner Collision Center Mifflintown in Mifflintown, PA, we always want to ensure that you and the rest of our community have great driving tips available, so they have peace of mind even if they have to pull off the road and call for help. Preparing for a roadside emergency will help you stay calm and follow the steps needed to get help.
Make sure you have information about your roadside assistance company. Many times, this is available with your insurance company. Also, having an emergency kit in your car will help you stay focused.
Finally, make sure other people driving behind your vehicle are as safe as possible and can see you well. If it is dark, you can use flares once pulled off the road, especially if your vehicle is around a corner. Also, use your hazard lights. Finally, stay in the vehicle and wait for help to arrive if your vehicle is safe.